The Burwell's 2018 Road Trip- Part One
Click or tap on the smaller pictures and they will expand into larger ones.
Sunday – 7/22
As I showered while getting ready for Church, the thought came to me, "Do I really want to make this trip?" I guess it was last minute jitters. I prayed about it. I felt like all would be ok. My wife says, Let's do it.
Church was good today. I couldn't help just looking around, taking a mental picture of everything and everybody – just in case. I know – I'm being silly. Joe Bonnette will be taking care of things on the home front for me, including looking out for my home, front and rear. Thank you, Joe!
Monday – 7/23
We headed out around 10:00 am. Trip Ground Rules: We'll only reserve hotel rooms for a day or two ahead, in case we decide we want to stay longer in a place. I'll drive most of the time, because I like to drive, and Sylvia likes to ride. Sylvia, though, began the drive while I finished some last-minute ministry details and put my email on vacation mode. I have a "hotspot" feature on my phone, so internet access on my laptop is no problem wherever I am, provided there's cell phone service. We stopped in Augusta for an early lunch, and I took over the driving chores. As we passed over the Savannah River, I reminded Sylvia that we were no longer "home". Earlier in our marriage Sylvia used to tell me that we could live anywhere we needed to as long as it was east of the Savannah River.
After Augusta we ran into road construction. Stop-and-go and 10 mph for about a half hour. In Atlanta, the traffic looked like rush hour in Charleston or Columbia. It was 2:00 in the afternoon.
Don't know why it always hits me this way, but Alabama's interstate highway system is a lot more attractive that South Carolina's and Georgia's. Really. The grass is greener, the trees are fuller, the roads are smoother. The only exception to this is Birmingham. The roads in the city are in horrible shape. In the past four years I've had to travel through Birmingham for one reason or another and for four years straight, there's been road construction on the interstate. And it seems like it's in the same places. Seems like they'd finally get finished. And I'm sure they will. One day, but not today.
We passed through the Mississippi Delta as it's called. The home of which famous singer? That's right, Bobby Gentry. You were thinking of one of the Blues artists like John Lee Hooker or Willie Dixon? Or even Elvis? We did drive over the Tallahatchie River. But we didn't see the infamous Tallahatchie Bridge. We passed by Whynot Mississippi. Great name! How'd you like to be from Whynot? Speaking of musicians, David Ruffin of the Temptations was born in Whynot. But I digress.
From Mississippi to Tennessee, stopping in Memphis for the night. We had planned to stay at our most favorite hotel in the world, the famous Peabody Hotel, but for some reason, it was full. As were most of the hotels in Memphis! I couldn't find any big event going on, but most of the hotels and motels were sold out days in advance. We finally found a bed in a Comfort Inn. Got the next-to-the last room they had. It was fine – clean, etc. But it wasn't the Peabody!
Tuesday – 7/24
Back on the road, heading through Arkansas.
I have never seen so many trucks in all of my life! Seriously. Where did all these trucks come from!? And where are they going? And how come I'd didn't see all these trucks in Tennessee or Mississippi or Alabama? They, of course, can't seem to get over 65 miles and hour. Or maybe they aren't trying to.
We stayed behind one particular truck in the left lane for over 15 minutes as it passed another truck. The truck in the right lane was probably doing 64 mph. The truck in front of us was doing 65. I'm having to practice my prayers as I sit here…
As we passed Little Rock, the landscape began to change. Fewer trees. And a lot fewer trucks! They all seemed to have turned and headed North. Good riddance.
We're seeing a lot of crop duster planes. Makes sense - there are thousands of acres of farmland out here, and airplanes would probably be the most efficient method for insecticide. It's fun to watch them sweeping up and down over the crops as we ride by.
Ever been to Toad Suck Arkansas? Neither have I, but we passed an exit sign pointing our way to it, had we wanted to go. Only one exit, only one sign. I missed it in my picture taking, but here's a copy from Google images.
According to the town's official website (Yes, they have one) back in the days of steamboats, the crew members would stop at the local tavern and drink a beer. To the dismay of the locals, "they'd suck on the bottle 'till they swell up like a toad." Ok, now we know…
Oklahoma! Oklahoma, where the wind comes sweepin' down the plain! Tell me – is there a High School in the United States that didn't do that musical as a junior or senior class play?
I-40 is in exemplary shape. Smooth, flat and wide. And I love the fact that it is against the law to "impede" the left lane of traffic. Maybe that's why all the trucks went north in Arkansas.
Went through Oklahoma City – A really Big town, but really spread out – more so than back East – you can see the difference. Downtown OC is about the same size as downtown Charlotte. Also starting to see the occasional oil well, and the lack of tall trees is become quite noticeable.
Our very first stop on Route 66 is Lucille's historic gas station in Hydro, Oklahoma. That's the original Route 66 road on the left in the first picture on the left. (click to expand the picture) Route 66 was a single lane highway and widened to four lanes in a lot of towns.
This was a fairly common building design in the 50's. Mom and pop lived upstairs and ran the station from 9 to 5. There's a similar building to this (without the pumps) right outside Orangeburg on the way to North. There's another one on US 17 between Mt. Pleasant and Georgetown. You probably know of another one. But Lucille's has the pumps! You want Regular or Ethyl?
We decided to stop for the night in Clinton Oklahoma, right down the road from The National Route 66 Museum in Elk City. First stop for tomorrow morning.
Wednesday - 7/25
It's my wonderful wife's birthday today. Happy birthday Sylvia!
Toured the National Route 66 museum in Elk City which also included a historic museum of buildings and items from Elk City. This was fun and really interesting.
The Route 66 museum shares the same space. You enter the museum here.
We took a lot of pictures while in the museum and while touring the recreation of historic Elk City. Here's the shots of the museum:
And here quite a few from the Elk City recreation. They use actual items from the period that have been donated by area residents:
Headed out on the way to Roswell, New Mexico. We paralleled Route 66 most of way through Oklahoma and New Mexico. The landscape is increasingly foreign to this South Carolina boy. We are definitely out West. Fewer and fewer trees, more and more scrub brush.
So, John, why Roswell? About a year ago I started listening to a Roswell radio station on an app on my phone (TuneIn Radio) and the local commercials featuring local people made this place sound like an interesting and fun place to be.
On the way to Roswell, we went through the panhandle of Texas, the absolutely shortest route through the great state. In Texas, the speed increased to 75. And as wide as the roads are and as flat as the land is, there was no reason not to be going 75.
We stopped in Amarillo for lunch. Texas is a whole 'nother country. Today is Sylvia's birthday (Happy Birthday wife!) and she wanted to go to a Dairy Queen to get a cone dipped in chocolate, just like she used to do when she was growing up. The sign in Dairy Queen reminded you what country you were in. I even saw a Chevy truck with "Texas Edition" emblazoned in chrome on the side. Don't mess with Texas!
Left I-40, onto route 60 to Clovis. Two-lane road, speed limit 75. God bless Texas. Stopped in Clovis, New Mexico at the Norman and Vi Petty Museum, home of the Clovis Sound. Buddy Holly first recorded here. Bobby Vee recorded here. Ditto the Chiffons. Nice visit. here's some pics:
Truly out in the middle of nowhere and maybe one of the friendliest and nicest places I've been in a long time. They take their UFO's very seriously here (with a tongue firmly planted in the cheek). There are little green men statues everywhere. Even alien eyes on the street lights. A nice touch.
Everyone in this town is so friendly! The Chamber of Commerce has to be proud of the people here.
Sylvia and I don't normally eat a big meal for diner, but we dined out at our first good restaurant on the trip for her birthday. We both had filet mignon and it was good. Thank you Dan Hydrick - we used your gift as per your instructions. The waitress was from Greensboro NC, and had been here for just a few years. Why Roswell? She fell in love in college and her boy was from here. Awww!
Thursday - 7/26
Toured the famous UFO museum in Roswell and we "discovered" the "actual" governmental cover-up that happened in 1949. Fun.
We had lunch at the famous Roswell McDonalds, which is all dressed up like a flying saucer. Such fun!
You know how the people who wait on you at our local McDonalds act like they don't want to be there and they wish you weren't bothering them? Not so at this McDonalds. I though I was back in the 60's when I deserved a break today!
Inside, they bring the food to your table. The man who brought it to us was the owner-operator. When he spoke, I recognized his voice from a radio ad I'd heard! (He's a regular advertiser on the Roswell radio station). I told him I recognized him, and told him why. His name is Nic and he and his wife both work there. They own it along two other McDonalds in Roswell and another one in another town.
He was so impressed he took our picture and then gave us a tour of the whole operation. Have you ever gone behind the counter of a McDonalds? I hadn't, either. Turns out he is one of the first McDonalds in the nation using 100% fresh beef on their Quarter Pounders. They have a special machine that cooks them when you order them. It only takes 70 seconds. It's a high-tech restaurant. Their employees punch in and out on the timeclock with their thumbprint. They have a touchless handwashing station for employees. All the latest hi-tec goodies.
Here's a behind-the-scenes tour for you!
Back on the road, and we're heading to Tucumcari, NM, home of the Blue Swallow Motel on historic Route 66, which is where we'll spend the night.
But before we get there, two stops to make on the way. First, to the Billy the Kid Museum in Fort Sumner, New Mexico, then to the Route 66 Car Museum. On the Internet, the Billy the Kid museum "looked" like I thought the old West ought to have looked like. We decided to take a look. Turns out that Billy the Kid was shot and killed in Fort Sumner, and is buried there. The museum has a lot of memorabilia from the era including several personal effects from "the Kid".
We stop next at the Route 66 car museum on the way Tucumcari. (Yes, we are now on the old original Route 66.) This was a smaller collection of mostly 50's and 60's autos (The heyday of Route 66) and most were for sale.
Here's a look at the cars and the motors and the nostalgia: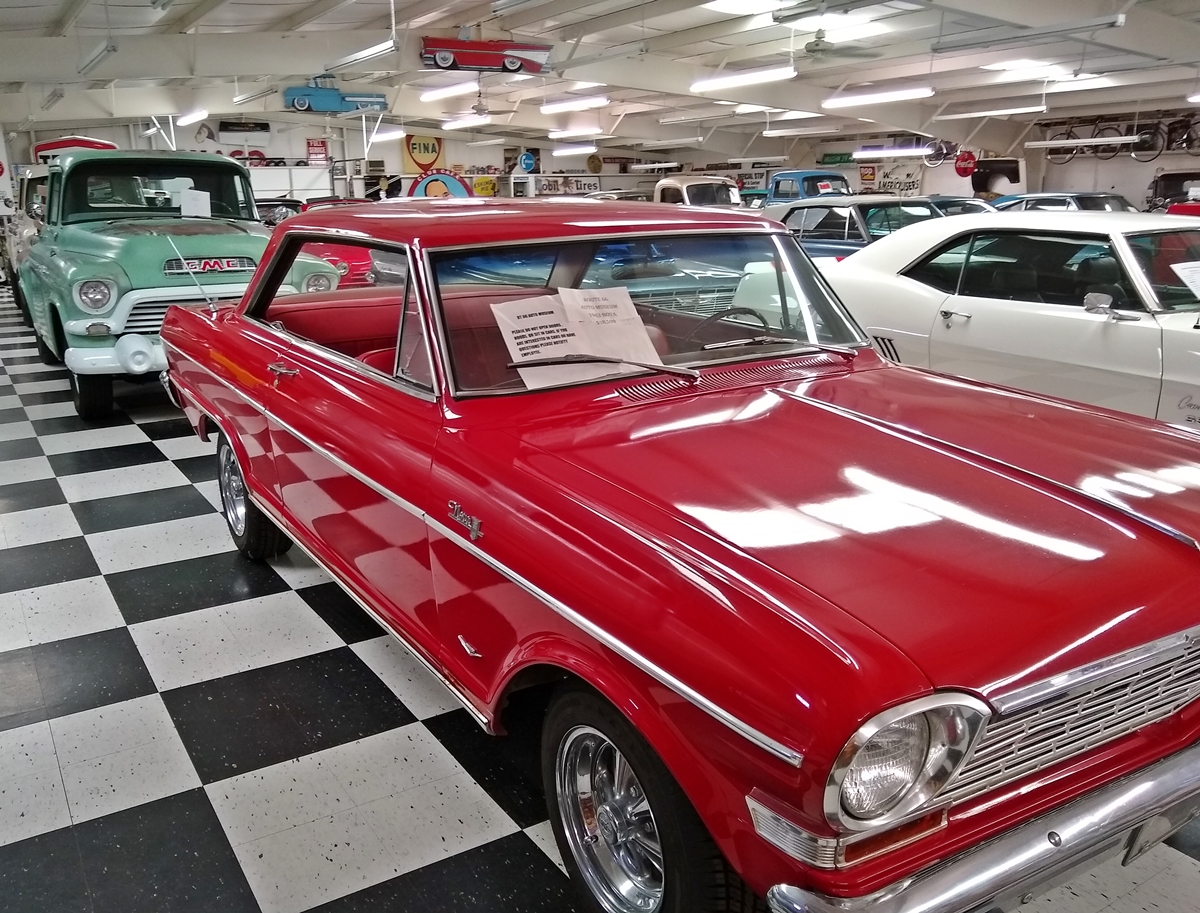 The town of Tucumcari is dying - most of the small downtown is now boarded up.
In many ways, Route 66 is similar to our 301. Like Allendale and Bamberg did when I-95 was built, Tucumcari and a lot of small towns out West lost out when I-40 came in.
There are a lot of neat murals painted on sides of buildings in town. I believe there are about 30 murals in all. Here's a few:
Alas, many buildings with murals on them are are now deserted.
Up on the one big hill (or small mountain) in town, there's a white "T" (for Tucumari) The "T" lights us at night. Quite a number of towns out here paint their initials on a hill near them. In the animated Pixar movie "Cars" the action took place in "Radiator Springs" and one of the sight gags was the giant "RS" up on the hill. We're seeing a number of "Cars" sight gags as we travel '66.
The Blue Swallow motel is a 1950's roadside hotel that looks like all those motels used to look like on 301 in Orangeburg and Bamberg. Except that this motel is completely refurbished and up-to-date. The owners personally run it and they take pride in providing its 12 rooms to Route 66 travelers.
Each room has a working rotary telephone and chenille bed spreads. You actually feel like you are stepping in the past. There are even little "garages for each room. (Too small for today's SUV's - The mirrors on Sylvia's car wouldn't fit through the door)
We sat outside our room as the sun went down, talking to fellow travelers. At night, they lit up the neon. Sylvia and I loved our stay. The bed may have been the most comfortable one on the trip. Best motel so far on the trip!
Here's some pics:
Friday - 7/27
This morning we're headed off to Winslow, Arizona so that we can be Standing on the Corner in Winslow Arizona – such a fine sight to see. (Remember the song, "Take It Easy"?)
It's raining this morning, a little. Not heavy, but it's the first rain so far on the trip.
It quit after about 20 minutes of driving.
15 miles outside of the World Famous Clines Corner (that's what the signs say), we ran into a mile of signs advertising the New Mexico equivalent of South of the Border. Pedro, however, could give them lessons.
Small mountains outside of Moriarity NM – first real change of scenery since left Okalahoma.
(Remember that you can click or tap on any of the smaller pictures to expand their size.)
Took a side trip to Tijeras, NM on the old Route 66, to experience the musical highway. For a span of about a mile, vibrations from grooves cut into the road play the chorus to "America" as you roll over the grooves at 45 miles per hour. So neat!
Tap or click on the arrow and take a listen!
Lunch in Albuquerque, home of our own Margaret Snow! Margaret, we stopped here just for you! (Well, we were kind of hungry as well...)
After lunch, it's on to the Petrified Forest National Park in Arizona. The roadside scenery in New Mexico and Arizona is so varied and so different. There's simply nothing like this back home.
When we entered the Petrified Forest National Park the ranger at the entrance to the park asked if either of us happened to be over 62. (Wasn't that a nice way of asking?) Since I am, he sold us a pass for 20.00 (cheaper than normal admission) and the pass gets both of us (or a whole carload) in free at any national park nationwide for a whole year! Perks for aging!
Part of the park had an eye-popping canyon that was so beautiful it could have been the Grand Canyon if the Grand Canyon didn't exist. Part of the great painted desert was also there. And the trees of rock! Amazing trees that became solid rock thousands of years ago. Never, ever seen anything like this back home. I can not tell you how awesome it is in person. Take a look - first, three panoramic vistas of the Painted Desert:
Now, here's a bunch of individual shots taken of the in the park including the petrified trees:
Leaving the Petrified Forest and heading to Winslow, we stopped in Holbrook, home of a famous Western gunfight that turned into a blood bath. After the battle they named the street where it happened "Bucket of Blood." Mercy.
Getting to Holbrook required driving on a very lonely strip of road for about 30 miles. How lonely, John? We passed a caution sign saying that the county and state police seldom patrol this area. There was no cell phone service either.
Holbrook is on Route 66 and has a number of Route 66 sites. Take a look:
The most famous of the sites in Holbrook is the Wigwam Motel. You may remember this from the "Cars" movie. Spend the night in a "wigwam" – well, not really. I'm not sure they were still in operation, as every "wam" had an old junk car in front of it. They also had old tow trucks like Tow Mater, straight out of the "Cars" movie. Really neat.
Made it to Winslow. And of course, we "stood on the corner."
We stayed overnight at the famous La Posada Inn in Winslow. The La Posada was the last of the Fred Harvey hotels, built in 1930. During the 30's and 40's the hotel was a favorite railway stop for movie stars and the famous. Jimmy Stewart, Bob Hope, Albert Einstein, Shirley Temple, and on and on. Amtrack stops there even today. In the late 50's it went out of business, and in the 90's a couple bought the building and spent a fortune recreating the former grandeur. It truly is grand, and well done.
A nice place... But… but the owner's wife (Tina Mion) has it stocked with her paintings which lean toward the macabre. Most of her art depicts murders and famous deaths and the La Posada serves as her gallery. There was a room with paintings of what she calls "death spoons" showing how some famous people died. There was a giant mural called dinner in purgatory for suicides. And of course, she had to have a swipe at Christianity with an oil painting featuring cashews and a cross. The painting was entitled, "Religious Nuts" Ha ha ha. So avant garde!
Our room was really tastefully done – large and quiet, well-appointed with a leather sofa and a large bookshelf crammed full of books. Sigh - I really could have done without Ms. Mion's artsiness. With the beauty of the La Posada, her art seemed out of place. It was sort of like makeup on an 8-year-old. It just wasn't necessary.
Saturday - 7/28
Back in I-40, Heading now to Henderson, NV to visit with Russ Clark, who was Sylvia's boss back when we were in seminary in Pittsburgh. She worked for Timet, a company that manufactures titanium. After seminary graduation (When we we moved to Orangeburg) they asked Sylvia to stay with the company and gave her a 300 baud acoustically-coupled modem attached to a green screen dumb terminal in order to connect with headquarters in Pittsburgh. (You can Google what that last sentence means.) She was one of the first telecommuters in the nation. Sylvia stayed with Timet for 18 years after seminary.
A few years later Timet moved their headquarters to Henderson, NV and Russ moved with them. We've kept a friendship with Russ and seen him several times over the years when we've visited Las Vegas. Yes, we've been to Vegas a number of times before! Sylvia used to go frequently to check in with her employer. I would tag along. I would tell my congregation that I was going along in order to do some fund-raising in Vegas!
No, we're not staying in Vegas tonight. Why? Wrong night of the week. Even the cheap hotels were 250 to 350 for Saturday night. I'm not kidding. We could have stayed at the now famous Trump Hotel in Vegas. Would have been from 850 to 5,500 per night. All the normal hotels in surrounding towns like Henderson had no vacancies. Saturday night's alright for gambling.
On the way out of Winslow we decided to see the Meteor Crater which was just off I 40 and down the road just a few minutes according to the map. Actually it was way down this road, and like a bunch of places out here it was in the middle of nowhere.
Oh, but it was worth it! Wow, what a hole!
Meteor Crater is 4100 feet in diameter, 2.4 miles in circumference and 570 feet deep. It was formed some 50,000 years ago when an asteroid plunged through the Earth's atmosphere and crashed into what is now central Arizona. Scientists estimate that to recreate the impact of the meteorite it would take an explosion equal to 10 million tons of TNT. Or to put it another way, the force of the meteor impact was equal to about 5000 of the atomic bombs dropped on Nagasaki in World War II. The picture above doesn't really do justice to the sheer awesome size of this crater. If you look carefully on the far left middle of the picture you'll see four people standing at a lookout. Their size helps put this into perspective.
Stopped in Flagstaff for lunch, got back on Route 66 for a few minutes to get back onto I-40. Lots of pine trees, mountainous terrain.
Looks a lot like North Carolina in these parts of Arizona. One difference – we are 7,335 feet in the air. 2,000 feet higher that the highest mountain in North Carolina. And the mountains around us are thousands of feet higher than that.
Was Flagstaff the "pass" through the hills for settlers on the way to California? I wonder. We are only 480 miles from Los Angeles, although we are not going there. No desire to go to LA. We've been there before – I went to a General Convention in Anaheim back in 2009. (That was close enough for me.) Sylvia went to LA for a convention a few years ago.
Construction on I-40. Speed limit 45 mph for 15 miles or so.
Hit another construction area which took us onto the other side of the Interstate. The map feature kept gently reminding us we were on the wrong side: "Head East!" The Google map icon showed us going backward.
Coming out of the mountains – the trees stared getting noticeably smaller and more like large bushes. Still, more green than brown on the hills.
Outside of Kingman, Arizona we found all the trucks we've been missing. The traffic heading East on I-40 was backed up for miles due a wreck. But why all the trucks? There were literally hundreds of trucks in the Eastbound lanes for two or three miles. Thank you, Lord, that we're headed West, not East.
Break time near the California border, as we turn and go northward toward Vegas. We stopped at a Wendy's for a Coke and a visit to the facilities and the only language I heard spoken was Spanish. I guess we must be fairly close to LA.
We're experiencing the first real heat so far. It's 101 at the Wendy's. As we move closer to Vegas, the temperature climbs higher. It's 110. I know – It's a dry heat. I've heard it all before. Trust me – It's h-o-t.
Henderson, NV – we have a wonderful visit with Russ Clark. It was 116 degrees at his home and we did sit outside on his back porch for about a half-hour! After a great visit, we then headed back out – destination Barstow, CA for the night.
Yes indeed, Las Vegas was built in the middle of a desert. The road to California is a desert road. Oh - when you hit the California state line, the speed limit drops from 75 to 65. Same road. Still flat and open. But it's California.
Yes indeed, Las Vegas was built in the middle of a desert. The road to California is a desert road. Oh - when you hit the California state line, the speed limit drops from 75 to 65. Same road. Still flat and open. But it's California.
The Gila Hotshots were staying at the hotel in Barstow that we stayed at. That's a group of 20 elite US Forest Service firefighters based out of Gila, New Mexico (men and women).
They had been working on some of the major forest fires going on in California, and were on their back way home for a few days before starting back fire fighting again. They were long gone by the time we left the next morning.
John & Sylvia's 2018 Road-Trip continues in part two.